I attended two shows back-to-back in London yesterday.
Esri(UK) Annual Conference
was daytime at the
QE2 Centre
in Westminster a stone's throw from the Parliament.
London Geomob
was that evening in
Shoreditch
, the swanky London digital hub where Ordnance Survey just opened the
Geovation Hub
.
If the 20 min tube ride in between might have been through a wormhole, such was the contrast, both meetups strove to do the same thing, substituting maps for arts as the Bauhaus movement: "founded with the idea of creating a 'total' work of art in which all arts, including architecture, would eventually be brought together".
QE2 Centre, click to enlarge
Esri(UK) presented a clear vision of where everything geospatial is going - my highlight was a 3D real-time collector and geo-fencing Marauders Map demonstration - yes that of
Harry Potter
fame, only right here right now - I'll post an image if they release one. In the meantime this was eerily presaged by Tom Coolidge's posting on same in
Esri Insider
, their blog on what's up&coming. And the closing Road Ahead session focused on Smart Maps - how to make maps that only do what users need and want - that is bringing GIS to the masses by keeping tech under the hood, only presenting what means something to the users.
Other Marauder Map, click to enlarge
The plenary followed the pattern of the
Petroleum GIS Conference
(no relation) I presented at recently: a brief technical overview followed by customer demonstrations. Then followed some user presentations in the telecom, water, housing, energy, healthcare, transportation and insurance. There were so many attendees (almost 3000) that he entire QE2 venue was used... that meant we each could have used a Marauders Map to find our way around! New this year were a Developer Track one floor up and an Education Track one floor down. As every there were ample room and time for vendor interaction and networking. This was very much a business-oriented show equaling suits and smart casual. At the risk of unearthing old war hatcheets, this is classic GIS, or paleo-geo, slowly moving the way its user base has been demanding for years.
Seckford Street, click to enlarge
Geomobs on the other hand are "un-conferences", this one dubbed "for fun and profit". Meeting host Ordnance Survey set up a Innovation Centre to support start-ups and individuals. The avowed intent to get more traction for their own digital map products. This meeting reflected that indeed, with apps demonstrating OS Open Data or Open Street Map data. What struck me however, is that they were all mobile apps promoting ease of use. One speaker clearly stated that hew delivered "what users wanted, when they wanted and how they wanted it": he leveraged tech to customise products to the max. Another speaker highlighted the fact he minimised the battery use on smartphones by managing the fetches to the web. Other topics were admittedly on the funky end of things, but the innovative uses of data were the local heroes. This was most definitely a more relaxed venue where suits were left at the door. Again this was the neo-geo crowd in old parlance, best followed on twitter where else.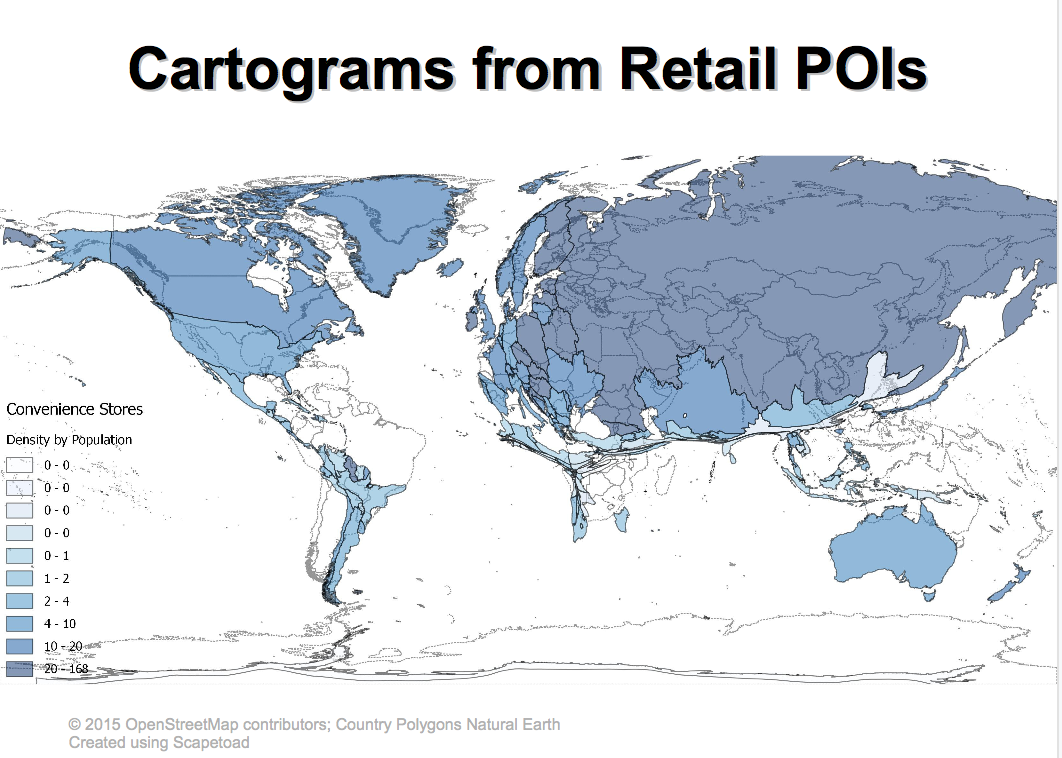 from @geomob, click to enlarge
What struck me however that both looked to achieve the same:


Esri's Smart Maps and the Geomob mobile apps truly move towards what I call Trekism, as in Star Trek where machines just provide services with hardly any user interaction

Amber Case now head of mobile research sees a key differentiator that Esri apps manage battery power consumption a lot better... which is exactly what one geomobber mentioned

not present, but Giscloud and Mapbox sang the praises of vector mapping on the web - posting vectors used resources an order of magnitude or two less - and guess what? Esri showed that in its Road Ahead session